Spinal Decompression for Sciatica in Coconut Creek, FL
Spinal Decompression for Sciatica in Coconut Creek, FL
Written By Tropical Chiropractic Group on February 24, 2020
---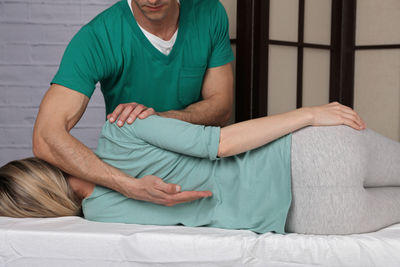 Do you experience sharp pain radiating from your lower spine to the back of one or both of your legs?
You may be suffering from sciatica.
Also known as sciatic neuritis, sciatica often occurs when a herniated disc or bone spur on the spine compresses part of the sciatic nerves. This leads to pain, inflammation, and numbness in the affected leg.
Whether it's a mild ache or severe pain, the sciatica conditions can be treated in a few weeks using non-surgical treatment methods. One of the most recommended sciatica treatment methods is spinal decompression therapy.
Sciatica Treatment in Coconut Creek: Relieving Pain with Spinal Decompression
Spinal decompression therapy relieves sciatica pain with the help of a motorized device or a traction table to stretch the spine.
Gentle stretching of the spine readjusts its position, taking pressure off the spinal discs and adjacent nerves. As a result, oxygen, water, and nutrient-rich fluids move freely into the discs, promoting self-healing and relieving your lower back pain.
The length of your sciatica treatment will depend on your specific symptoms and how you respond to the treatment. On average, our patients undergo spinal decompression therapy for 6-8 weeks. However, a single session will take less than 20 minutes.
Apart from sciatica, spinal decompression is also known to treat other conditions such as herniated discs (when vertebral spinal discs slip out of place), radiculopathy (pinched nerves), and spinal stenosis (narrowing of the spine).
Why Should You Consider Spinal Decompression Therapy?
Unlike other sciatica treatment methods such as bracing, exercise, and non-steroidal anti-inflammatory drugs (NSAIDs) that only treat the symptoms of the condition — spinal decompression goes the extra mile to solve the problem at the root for long-term relief.
The procedure is also non-invasive, making it suitable for a wide range of people — from seniors to active athletes.
Get Drug-Free Sciatica Treatment in Coconut Creek
At Tropical Chiropractic, Dr. Scott Herman uses a decompression system to help our patients get quick relief from persistent back and neck pain. Our sciatica treatment procedure is approved by the FDA and comes with a high success rate.
If you're suffering from sciatica-related pain, visit our chiropractic clinic in Coconut Creek today or call (954) 917-4343 to book an appointment with Dr. Herman.

Posted In: Chiropractic Spinal Decompression Sciatica Treatment Sciatica